[Article en ligne] The Animal Speaks, Astrid Guillaume, in dePICTions revue du Paris Institute for Critical Thinking
Fière de partager mon nouvel article en ligne et en anglais. Extrait: Human history has not displayed much concern for animals, often due to economic reasons, political and religious ideology, and scientific ignorance. This has been true, as well, in the Humanities, also known as the Human and Social Sciences (HSS). Of course, animals are present in art history or comparative literature curricula; they are studied as themes or characters in literary texts, myths, tales, fables, and legends, in works of art, and in their relations with humans. However, non-human animals also have cultures of their own. They communicate with each other via intraspecific languages and with humans and other species via interspecific languages. Linguistics could cover the array of these interactions in their communicative complexity and multilingualism. However, to date, animals remain absent from linguistic studies.
Humans have a great power of speech, mostly vain and false. Animals have little use of speech; however, it is always useful and true.
—Leonardo da Vinci
Suite à lire sur le site de The Paris Institute for Critical Thinking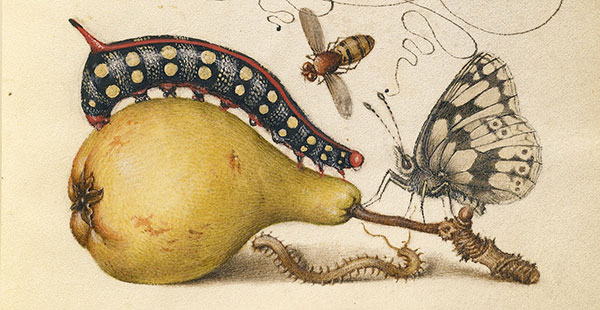 Image from Georg Bocksay and Joris Hoefnagel, Mira Calligraphiae Monumenta (1561-1596)
ASTRID GUILLAUME is a semiotician who serves as Maître de conférences at Sorbonne University. She is a Chevalier (Knight) of the Ordre des Arts et Lettres, an award by which the French state recognizes significant contributions to the humanities and arts. Since 2019, Astrid has served as the Founding President of the French Society of Zoosemiotics.
astrid.guillaume@sorbonne-universite.fr
dePICTions volume 3 (2023): Critical Ecologies